What's New at Innovate 2018: Forward?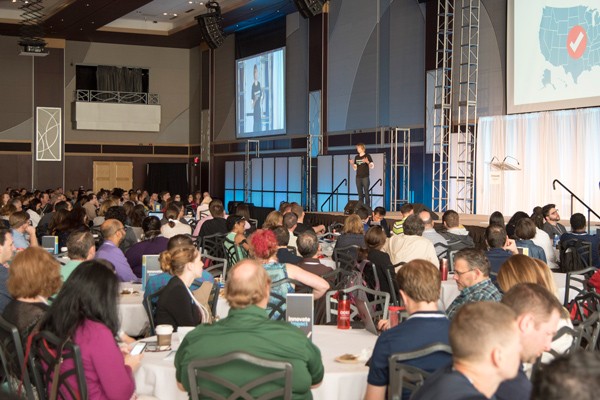 We're glad you asked!
Each iteration of the Innovate conference is designed with the educator in mind, and with the intention to best prepare you for the new technologies and morphing pedagogies that will affect your classroom.

There will be a few new ways to explore and learn this year. Here's what's in store for you!
Innovate Ed Talks
These interactive panel discussions will feature a keynote speaker, leaders from the Ohio State community, and deeply-engaged faculty talking about the hot topics and trends that will shape the future of education.
10-10:45 a.m. – Ed Talk: Access
11-11:45 a.m. – Ed Talk: Professional Learning, presented by the University Institute for Teaching and Learning (UITL)
1:30-2:15 p.m. – Ed Talk: Technology
2:30-3:15 p.m. – Ed Talk: Learning Environments
Your questions for the panel can be submitted using that session's hashtag.
The Imaginarium
Facilitated by the STEAM Factory, the Imaginarium is a space dedicated to hands-on exploration, demonstrations and showcases of forward-thinking tools and projects.

There you'll find:
Micro-lectures: These "TED Talks" style lectures are five-minute, high-energy presentations focused around one big idea.
New technologies: You will have the opportunity to play with, investigate and view some emerging technology and teaching concepts.
"Brainstorming" space: Like many active learning classrooms, you should consider the Imaginarium as another flexible space for conversation and idea generation.
Student Startup App Pitches
Students from the Fisher College of Business entrepreneurship and innovation minor have been working this semester to identify and solve student pain points through the development of new apps and services.

Innovate attendees will see them pitch their app ideas and observe what problem-based learning looks like in action. Scheduled to present are:
Leah Sinn (App name: Divvy)
Stuart McGibbon (App name: Welly)
Danielle Kennedy (App name: Snag)
---
Still not registered to attend this free conference?